Friday, March 23, 2012
I was invited to have a book signing at the Paseo Verde Library in Henderson, and with the switching over of the new blog, I never posted about it!
So, here are a few of the pictures from the event.
This is the flyer I stumbled upon one day (I was soo excited!)
And the Day Dreaming book blog devoted a whole week to me!
You can read a fun
interview with me here
, an interview with some of my characters from my novella Highland Games
here
, a
re-cap of the signing here
, and a wonderful
review of Highland Destiny here
.
Saturday, March 10, 2012
Hey everyone! There's a blog hop starting March 17th over at Sam, Elena & Rhonda's Awesomeness and there will be some crazy cool prizes from authors Debra Anastasia, Rachel Firasek, C.J. Roberts, Carolyn Crane, Kallypso Masters, J.A. Saare, EL James Bella Andre,Rosalie Lario, S.C. Stephens, Lisa Beth Darling, and of course, ME! Stop by, join in the fun, and try your luck!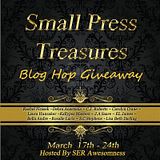 "As passionate readers, every now and again we come across Small Press, or independent authors who are passionate, creative, and are interested in having a fun time exploring. They have such a strong voice to emphasize how much they love to write, and they take the risk of putting their work out here in the world to be loved or criticized.
Readers love a good story, whether it's revealed in poetry, fiction or creative nonfiction. We are interested in fresh, fun, quirky voices. We have a huge soft spot for writers who haven't been accepted by major publishing companies, but we recognize their talents. So here, our goal is to make a difference and share with other readers / bloggers just how awesome "Small Press" and "Independent" authors truly are.
Here at SER's we have had the distinct pleasure to read some really fantastic books by these authors, and we are excited about this hop, and putting the spotlight on them."
---from S E & R's Awesomeness